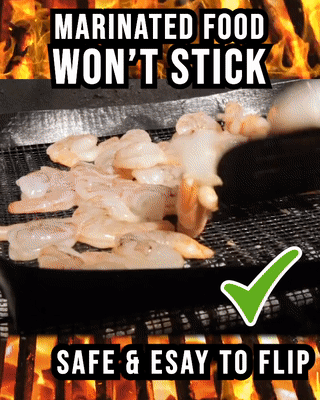 Tired of LOSING YOUR FOOD TO THE GRILL? How about the spears of asparagus falling through the cracks or the flare-ups burning your meat? Non-Stick BBQ Grill Mat is the secret to grilling like a pro.
This protective grill mat

 

allows barbeque masterpiece to fully absorb

 

those awesome smoky flavors,

 

unique mesh design keeps food from falling

 

between the grates.  It

 

keeps the food from sitting in unhealthy fat and grease. 
It is

 

made of heat resistant technology,

 

advanced materials that look similar to a plastic mat, however, it will not burn. Certified as safe by the

 

FDA-approved nonstick,

 

easy to clean,

 

and

 

dishwasher safe. 
Mesh Design for Full Smoke Flavor
Can be Placed on Top of Any Grilling Grate
PFOA-Free Materials and Premium PTFE-Fiberglass Coating
Heat Resistant up to 500F (260 ° C)
Nonstick Surface Provides Easy Clean Up 
Cook Without Oil or Fats
Does NOT Absorb Odors or Transfer Flavors 

Material: Glass Fiber Cloth + Teflon Coating
Color: Black
Size: 40cm x 30cm
1 x Non-Stick BBQ Grill Mat

————————————————